2018 BEEKEEPING CLASS IS FULL – REGISTRATION IS CLOSED FOR 2018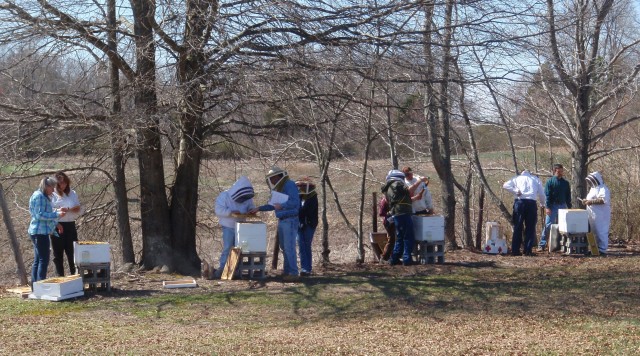 About the School
Thank you for your interest in OCBA's 2018 Bee School. Our class is full. REGISTRATION IS NOW CLOSED. Please check back in October 2018 to enroll for OCBA's 2019 class.
You may be able to find an open class in one of our adjoining counties. Check the NC State Beekeepers Association site for availability.
Are you interested in beekeeping but don't know where to begin? Are you a beekeeper who is interested in improving your beekeeping skills? Whatever your level of interest, Orange County Beekeepers Association's Bee School is here for you. OCBA's Bee School has been fully enrolled every year for the past several years. Class space is limited and classes fill up quickly.
OCBA's 2018 Bee School begins Tuesday, January 16, 2018. Classes meet weekly for 10 weeks. This is an intensive class in beekeeping designed to prepare participants for keeping bees. Knowledgeable and experienced instructors will cover the history of beekeeping, essential beekeeping skills, monitoring and treatment of pests and diseases and seasonal hive management. At the end of the course, you will be prepared to begin beekeeping. Two field day events are offered. The first will teach participants how to assemble hive components. A second hands-on, in-hive, field day will be held where specific beekeeping skills discussed in the classroom will be demonstrated. This course focuses on beekeeping using generally accepted beekeeping practices using traditional Langstroth style beehives.
Classes are held at the Unitarian Universalist Congregation Church, Unitarian Universalist Congregation of Hillsborough, 1710 Old NC 10, Hillsborough, NC at 1710 Old NC Hwy 10 in Hillsborough. First day sign-in for pre-registered participants will begin at 6:30pm on January 16. Subsequent classes will begin at 7:00pm. Classes are approximately 2 hours long.
Schedule*
OCBA Bee School 2018 schedule:
Tuesday, January 16, 2018
Introduction to Beekeeping
Tuesday, January 23, 2018
Honeybee Biology
Tuesday, January 30, 2018
Bees as Social Insects
Tuesday, February 6, 2018
Beekeeping Equipment
Tuesday, February 13, 2018
Getting Started
Tuesday, February 20, 2018
Varroa Mites
Tuesday, February 27, 2018
Diseases and Pests
Tuesday, March 6, 2018
Plants for Bees in NC
Tuesday, March 13, 2018
Products of the Hive
Tuesday, March 20, 2018
Seasonal Management/Review and Certification Exam
Saturday, February 10, 2018
Field Day – Equipment Building
Cedar Ridge High School, Hillsborough
Saturday, March 24, 2018
Field Day (weather permitting)
Location to be determined
Note: The order of lectures may change in the event of weather delays or to accommodate instructor's schedules.