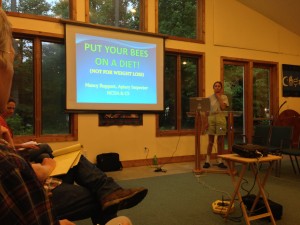 Apiary Inspector, Nancy Ruppert, spoke to us at our June meeting about bee nutrition. Here some tidbits from her talk.
– Good nutrition can increase a worker bees' life span. An increase of just one week can have a great impact on the hive overall.
– A healthy colony needs 700 lbs of nectar per year
– Nectar Substitutes
Cane sugar is the best substitute
HFCS is suitable but can vary from 42% to 90% fructose, 42% is most like honey which is what should be used
Heating HFCS above 120 degrees can make it toxic. Use caution with HFCS that has been stored in drums during the summer where it can reach these temperatures.
– A hive needs about 2-3 pounds of pollen per week
– When carbohydrates are needed
During a dearth
Build up for winter
Wax building
Stimulate the queen to lay (in the spring to late summer to boost population)
Brood rearing
– Bees need pollen to process carbohydrates
– Importance of pollen as it relates to the duty and age of the worker bee
Nurse Bees (1 to 12 days) need pollen for the development of their hypopharyngeal glands so that they can produce royal jelly
House Bees (12-18 days) make wax and pollen is needed for their wax glands to develop properly
Forager Bees (18+ days) pollen is required for the development of their flight muscles
– The best natural pollen is comprised of 25% protein, anything higher is hard for them to digest. When using pollen substitutes 15% protein is best
– When evaluating pollen stores in the hive, look for a rainbow of colors. This indicates a good variety of pollen sources which is best for the health of the colony.
– There are 10 amino acids that bees need for good health. The only way to get this is from a variety of pollen sources
– Good Pollen Sources
– Bad Pollen Sources
– When to feed pollen
During pollen shortages (during a dearth or during winter)
Prior to stress placed on the hive due to…
Brood rearing
Commercial pollination
Making splits
Raising Queens
Development of winter bees
During the nectar flow
Feed pollen when feeding sugar
– If you were to piece together all of the bits of pollen scattered throughout the hive it would fill about 2-3 frames
– When pollen has a bit of sheen to it, that means that honey has been added. Pollen can mold and ferment quickly, the honey acts as a preservative.