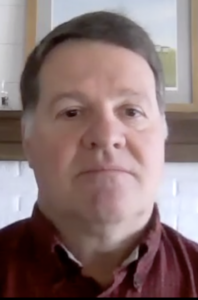 Join us on February 10th at 7:00 PM either in person at the Orange County Extension office 1020 US-70 West, Hillsborough, or over Zoom, for a meeting with George McAllister.
George first learned beekeeping from his grandfather who had 75 hives and taught beekeeping at NC State University in Raleigh. His grandfather, an avid researcher, believed being a good beekeeper is a journey where you are always learning and constantly looking for ways to improve how you manage bees.
In 2008 George resumed his beekeeping journey while living in Charlotte, NC. Using beekeeping methods focused on maintaining strong hives for maximum honey production in areas where you cannot keep many hives is his primary objective. George's beekeeping methods initially evolved from observing the daily weight changes in his hives over several years. From the changes in hive weights he can observe how bees respond to his actions and the environment. Second, because of space limitations George utilizes queen castles because they take up less space.
Queen castles are integral to George's beekeeping as they supply his honey production hives with queens, brood, bees and drawn comb as needed throughout the year. The queen castles are also part of George's swarm management practices as the place where he raises queens from swarm cells.
Besides keeping bees George was also the past president of the Mecklenburg County Beekeepers Association. He regularly speaks at county bee clubs, the North Carolina State Beekeeping Conference, Eastern Apicultural Society (EAS) and organizations interested in bees. He keeps bees in Charlotte and Catawba county.