Welcome to the Orange County (North Carolina) Swarm Patrol page!
If you are requesting that a swarm of bees (honeybees ONLY) be removed from your property in Orange County, North Carolina, and surrounding areas, please contact: Chris Richmond (919-932-1335). He will then call the nearest available local beekeeper to come and get the swarm.
If you are in Orange County, California, the website for the local beekeeping club there is: www.ocbeekeepers.com.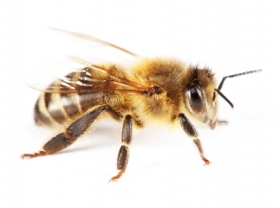 We only remove honeybees and NOT carpenter bees, yellow jackets, wasps, hornets, bumblebees, or other flying hymenoptera. Honeybees look like the photo at the left.