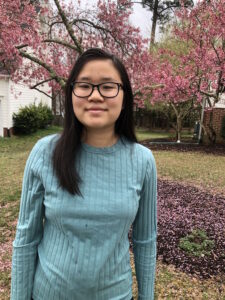 Hello! My name is Seokyun and I am one of the apprentices of the OCBA! I am 16 years old and a sophomore at East Chapel Hill High School as well as a member of the Bee Club at East. One of the reasons why I applied for the Apprenticeship program was to have the opportunity to closely interact with bees and know them from the inside out. I am also passionate about plants and insects and I plan to study Horticultural/Plant Science and Entomology. Ultimately, one of my biggest goals is to continue the Master Beekeeping Program during college.
Learning from my Mentor
On Tuesday, I explored the Sugar Shake Method during the hive inspections at my mentor Cely's and Kent and Vicki Robertson's apiaries.
We first did a bee inspection to check on the conditions of the hive:
Then we collected a sample of ½ cup of bees, added 2 tablespoons of powdered sugar into the jar, and left it to settle. We came back to it to shake the mites off of the bees:
The hives turned out to be very healthy, with little to no mites!
Overall, the mite inspection was personally a great experience for me and gave me insight to the vital duties beekeepers have to take on to keep maintain their hives. I seriously look forward to having my own hives soon!
Varroa Mites
One of the main aspects of beekeeping that's heavily emphasized in the OCBA's Bee School are varroa mites. They are hazardous parasites that feed on the hemolymph of both developing and adult bees and act as a vector of numerous deleterious viruses. Eventually if nothing is done to stop the infestation altogether, the bees will most definitely die. (Sources: OCBA varroa mite class with Jennifer Keller and monthly meeting "What is killing the honeybees?")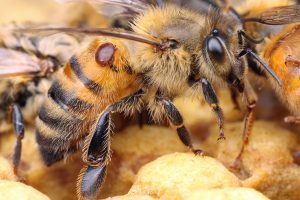 How to Monitor Mite Levels
Good news is that if kept under control, a beehive has every potential to be healthy.
The two popular methods of monitoring mite levels are the Alcohol Wash and the Sugar Shake methods.
Alcohol Wash:
This method involves using rubbing alcohol to separate the mites from the bees.
Pros:
Very rapid and simple

Proven to be effective and accurate

Beekeeper knows exactly how many are in the sample
Cons: