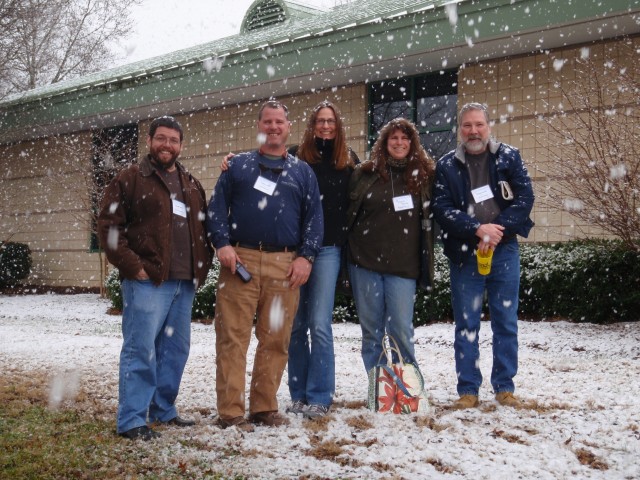 Several of us attended the NCSBA/SCSBA jointly held Spring Meeting in Rock Hill, South Carolina. While there were many exciting and informative sessions during the meeting, one of the most exhilarating events was the beautiful snowfall that greeted us when we broke for lunch on Saturday.
We were surrounded by more than 600 attendees along with expert speakers in their areas of specialization. For 15 hours over the course of a day and a half we spoke of almost nothing except bees and it was great!
Here are a few of the topics that were covered during the meeting:
Monsanto's Committment to Honey Bee Health
Jerry Hayes, Monsanto, St Louis, MO
Enhancing Genetic Diversity in the US Honey Bee Gene Pool
Sue Cobey, Washington State University, Pullman
Worker – Drone Interactions and the Influence of Drone Quality as a Result of these Interactions
Stanley Schneider, Professor Dept of Biology UNCC
New World Carniolan Program, In Its 31 Generation
Sue Cobey, Washington State University, Pullman
Impacts of Pesticides on Honey Bees
Jamie Ellis, University of Florida, Gainesville
We also had the opportunity to attend some breakout sessions on the recognition and treatment of bee diseases, Africanized honey bees, rearing high quality queens, the value of pesticides and their proper use in beekeeping and SHB management.