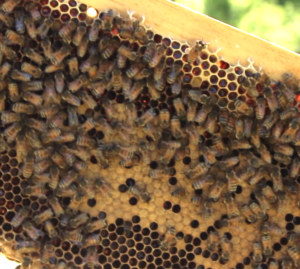 On May 13 at 7:00 PM, Phoebe Snyder will present her research, "From Lab to Market: A Novel Tool for Varroa Resistance".
The research involves a beekeeper-applied spray that mimics Varroa pheromones. This incites hygienic behavior that can be quantified, allowing a colony's hygienic level and thus future prospects with regard to Varroa infestation to be evaluated in early spring, before Varroa issues arise. If this were to be developed into a commercial product, it would be a great tool in the beekeeper's arsenal.
Phoebe grew up on a farm in western Maryland and always knew she wanted to work in agriculture. She went through her first hive in 2015 and has worked with bees ever since. Through college, she worked for a honey bee nutrition company collecting data on a feeding supplement in commercial apiaries in Florida, New York, and Pennsylvania. Phoebe had the opportunity to travel to California during almond pollination in 2018 to study the effects of fungicide application time on honey bee foraging behavior. After she graduated with her bachelor's degree in biology from Stevenson University in 2018, she worked for the USDA Bee Research Lab in Beltsville, Maryland under Dr. Steven Cook studying miticide toxicity on honey bees and varroa mites. Phoebe then began her master's degree at the University of North Carolina at Greensboro under Dr. Olav Rueppell studying honey bee group size effects on hygienic behavior performance. During this time, Phoebe had the opportunity to conduct a portion of her thesis work in Israel. She graduated with her master's degree in biology in December 2020 and co-founded Optera, LLP with Dr. Kaira Wagoner. Currently, Phoebe is working on researching and commercializing a tool for beekeepers to predict mite loads and breed for mite resistance.