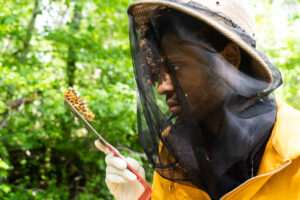 Join us on January 14th, 2021 at 7PM when our speaker will be Dr. Samuel Ramsey.
Dr. Ramsey will speak to us about "Fight the Mite Thailand Edition: Understanding the Mysterious Tropilaelaps Mite". Tropilaelaps mercedesae is among the most concerning threats to our bees but continues to be one of the least studied. The Fight the Mite Initiative was established to proactively better our understanding of this creature without waiting for it to arrive in the US first. Funded by the beekeeper community, Dr. Ramsey has been researching the behavior, lifecycle, and vulnerabilities of the Tropilaelaps to chemical and nontreatment measures. Though the project was ended abruptly as a result of the Covid-19 pandemic, this presentation will detail discoveries and data collected to this point and the need for continued study.
Samuel Ramsey's enduring interest in insect biology started 23 years ago and shows no signs of waning. Having earned his doctorate from Dr. Dennis vanEngelsdorp's lab at the University of Maryland; Dr. Ramsey maintains a focus on how insect research can benefit the public through the development of IPM strategies and STEM-based outreach initiatives. His award-winning research on Varroa biology has changed the standing paradigm on how this parasite ultimately kills honey bees leading to opportunities to share his work nationally and internationally. He graduated with a Bachelor of Science in Entomology from Cornell University in 2011 focusing his research on predator/parasite behavior. His current work, aptly named the Fight the Mite Initiative, was funded largely by the beekeeping community. It focuses on the poorly understood Tropilaelaps mite which is rapidly establishing itself as the next threat to apiculture globally. He is now based in Thailand studying the biology and behavior of this pest and what it will ultimately take to kill it, ensuring in the event of its arrival in the US, we'll have the knowledge and resources to respond effectively.